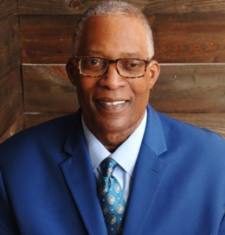 The Rev. Dr. Conley Hughes Jr.
President of the Board
Professional Background: Senior Pastor, The Concord Baptist Church of Boston; executive Committee and Chair, Finance Committee, American Baptist Home Mission Society, American Baptist Churches, USA
CBCHEDC Goal I am most proud of: I am most proud and excited that CBCHEDC can work collaboratively with other organizations with similar purposes, to maximize the potential in reaching and resourcing more people. Often, families must commit over 60% of their income to housing needs. We want to have an impact on this alarming reality through collaboration with partners in training initiatives, which provide education in the areas of economic literacy and financial management.
What Inspires Me: I am inspired to work on behalf of CBCHEDC because I believe fundamentally that a person's ability to acquire and properly manage resources are a part of God's economy for our lives. The persistent needs for affordable housing, equity accumulation, and entrepreneurial development are deeply rooted in my faith orientation.  CBCHEDC is a unique conduit to generate and provide resources in assisting individuals and families obtain housing, and to launch promising business ventures.
What I like:  I like working with others.  Join CBCHEDC because together we can accomplish much!